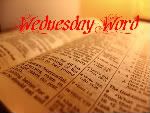 "Praise be to the God and Father of our Lord Jesus Christ, the Father of compassion and the God of all comfort, who comforts us in all our troubles, so that we can comfort those in any trouble with the comfort we ourselves have received from God." 2 Corinthians 1:3-4
In the 2 1/2 years since my husband's passing I have been comforted in many ways and through many people. I have accepted with gratefulness the embrace of others and the kindness of their hearts.
Yet there is no deeper comfort than that I have received from my Father in heaven.
This truth does not negate the fact that, we as believers in Jesus Christ our Lord and Savior, must reach out and comfort those around us who are in troubled circumstances. It only enhances our need to reach out, not with our own love, but with the Love of God.
It has become real in my life that we DO need to see 'Jesus' with skin on as we journey the depths of grief or trials and we are to be that to those in need, but I have also come to realize that there is Nothing I can do as a human being to comfort the hurting if Jesus is not in my actions or words.
My goal this week, as I journey my given path, is to recall daily, these words of comfort.
As God places people in my path this week, it is my desire to love with God's love,
to reach out with God's hand and embrace with God's compassion.
With the comfort I have received
I pray I can be a comfort to others.